Your need-to-know guide to wholesale electricity prices
A Complete Guide to Wholesale Business Electricity
Electricity is traded and sold through the wholesale electricity market before it is delivered to individuals, homes and businesses through the national grid. The wholesale cost of electricity is a major component that influences the overall cost of your business electricity bills, and it changes all the time.

The market fluctuates greatly for a wide variety of reasons. This affects both business energy customers and domestic energy customers because the prices you are offered by energy companies will change according to the energy market.
Why the energy market fluctuates
The energy market might appear relatively stable from the perspective of a business customer on a fixed deal because you pay the same rates for the electricity your business uses throughout the duration of your contract. However, wholesale energy prices can change every day.
Prices are set by traders on the global market. One reason for the energy market to rise and fall is the demand for energy, both from business customers and for household energy.
The reason for the volatility of the energy market goes beyond the simplicity of supply and demand. There are added complexities from many factors that are interconnecting. Together, these factors affect the stability of the energy market and cause fluctuations in the rates we pay. For example:
1. Weather
Both hot and cold weather puts greater demands on the National Grid because of increases in energy usage. The greater need for power and heating pushes prices up. These pricing increases come from wholesalers and the global importers and exporters of energy. Appliances that use more units of energy, or kWh, to run, such as air conditioning systems, will have a greater impact.
2. Natural disasters and civil unrest
The global supply of energy can be impacted by natural disasters or incidents, as well as stresses from war, civil unrest and the impact of political decisions. All of this can affect and sometimes even block the supply, threatening the availability, increasing the demand and then driving the wholesale cost of energy up.
Even the likes of currency movements and shipping prices can have a knock-on effect that greatly impacts the wholesale cost of electricity. These changes are all interconnected and will alter the price you pay for power as a business consumer.
Like what you're reading? Get more in our monthly newsletter!
Get the latest news and articles straight to your inbox from Utility Saving Expert
How wholesale prices impact energy bills
The UK's energy regulator, Ofgem, collects data for monitoring and analysis of the wholesale energy market for gas and electricity. Key market outcomes can be drawn from Ofgem's analysis of the wholesale price of gas and electricity, which it says has, "a significant impact on retail bills."
Ofgem also states: "Understanding how and why wholesale prices have changed helps us understand why retail bills have changed."
Energy companies tend to blame their higher tariffs on external factors such as the wholesale energy market and will increase unit costs in line with wholesale price rises. According to Ofgem, wholesale energy prices account for a large proportion of energy bills. This typically makes up almost half of each energy bill.
Other factors that affect what your energy company charges you for your energy bills include:
network and distribution costs to deliver the energy to customers,
operating costs, customer service and account management,
government taxes such as environmental and social levies.
On top of this, the price you pay for energy will also be affected by:
your business energy consumption,
the energy efficiency of your business premises,
your chosen energy supplier and tariff,
the type of contract you have chosen.
When you are thinking about changing your energy contract, consider how timing and other factors may affect wholesale prices. The rates offered on energy tariffs will peak during the winter months because these months are dark and cold, driving up the price because there is a higher demand for heating and lighting so that our homes and offices are comfortable.
January and February are generally the worst months to renew or switch your contract because energy companies are affected by the wholesale energy market. Quotes during these months will often provide the worst value for money.
Current wholesale electricity prices
The rates for wholesale electricity in the UK were relatively low in January 2020, but there were energy price peaks in 2013, 2016 and 2018, and the average bill charged by the Big Six energy suppliers has gradually risen from £474 in January 2010 to more than £750 in June 2019.
Prices and demand for energy may remain flat or more stable because of factors such as reduced economic activity or less fluctuation between seasons, with colder summer months and milder weather in the winter months.
Not unexpectedly, the market was affected by major political decisions in 2016. The wholesale cost of electricity rose by 20% shortly before the UK-wide Brexit referendum. Immediately after the outcome revealing the withdrawal of the United Kingdom from the European Union, prices dipped, before rising again.
Considerable energy market peaks happened during the financial crisis in 2008, with energy rates almost doubling and steep price hikes from the Big Six suppliers.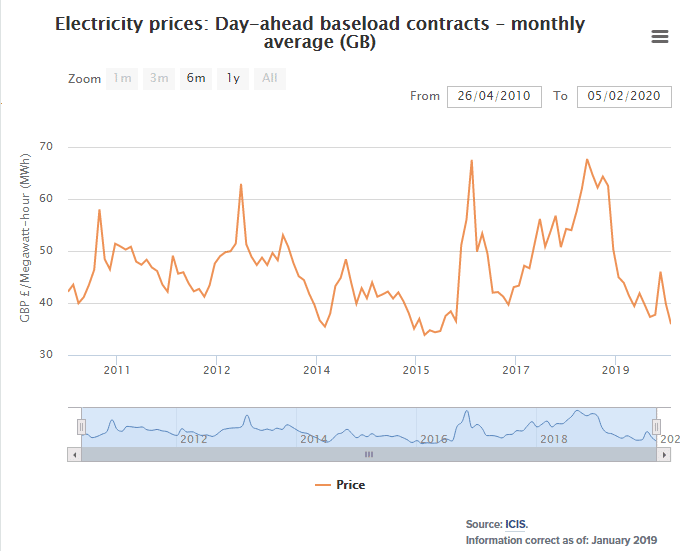 How fuel sources impact wholesale costs
The wholesale cost of energy is also impacted by its sources, for example, where the fuel comes from and how high the stock levels are.
The ambition to use less carbon-intensive fuel sources has moved the UK's current energy generation systems into a period of significant change. Further growth in the renewable energy market is expected, particularly as the UK has recently become an attractive option for renewable energy investors, following the decision from the UK government to lift its block on financial support for wind and solar projects.
Although an increasing percentage of the UK's energy is now coming from renewable sources such as solar and wind power, a large share from traditional, non-renewable sources such as coal and gas remains, as well as a relatively smaller share from nuclear power.
Fuel costs for conventional forms of non-renewable energy generation fluctuate depending on the wholesale price of gas, oil and coal, whereas the majority of renewable energy schemes have no ongoing fuel costs whatsoever once the technology has been installed and systems built.
The mix of energy generated from both renewable and non-renewable sources at any one time impacts the wholesale market price.
Why the wholesale cost of energy affects business customers
Fluctuations in the wholesale electricity market may have a more immediate effect on business energy customers than domestic customers. That's because many business energy deals are bespoke, created on a contract by contract basis by suppliers and tailored to your unique business requirements. As they are less uniform than household contracts, they are more exposed to the energy market's volatility.
However, for businesses with electricity contracts that are fixed-term with fixed-rate prices, rises or falls of the wholesale price of energy won't affect you for the duration of your contract. Because of this, it will suit many organisations to choose two or three-year contracts, or negotiate longer-term deals if you prefer. However, opting for longer fixed-rate deals may be more expensive than a one-year contract.
When to renew your electricity contract
Regardless of the wholesale cost of electricity, it's crucially important that your business looks for new energy quotes each year, and especially when your business electricity contract is coming up for renewal.
If you don't compare and switch to a better business energy deal or effectively renegotiate your contract, you risk increasing your business costs if you are automatically moved to an expensive default tariff that does not offer good value for money.
It's estimated that the nature of the energy industry and rollover contracts can increase prices by more than 100%. Despite this, research suggests many businesses will allow their contracts to extend and rollover without exploring their renewal options.
To ensure your business doesn't overpay for its commercial electricity contract, it's a good idea to keep a close eye on your energy deal options. Compare tariffs and suppliers using our free online tool and switch contract when your current contract comes to an end.
Compare and switch your business electricity contract
Business electricity plans don't work in quite the same was as household energy plans, but many of these differences will play to a business' advantage.
The way the price of business electricity bills are calculated is different from domestic plans because most businesses will use more power than an average household. Many suppliers reward businesses for this with cheaper unit prices and better deals.
What you are charged for energy will also depend on the size of your business and the amount of electricity that is used, as well as the deal you choose.
On average, businesses can save £1,150 when they compare and switch business electricity deals using Utility Saving Expert.
To find a commercial energy tariff and supplier that suits your organisation, use UtilitySavingExpert.com to compare your options and make the switch.
Switch supplier and save up to £450.42* on your gas and electricity bills