Your need-to-know guide to Energy Performance Certificates
Energy Performance Certificates (EPCs)
Every property in the UK that is built, sold or rented needs an Energy Performance Certificate, often abbreviated simply to an EPC. This tells you how much the building will cost to heat, power and produce hot water.
Energy Performance Certificates (EPCs) can help you understand how energy efficient your home is, or how energy efficient a potential new home will be. Using your property's EPCs, you can also compare gas and electricity tariffs and find better energy deals to save money.

What an Energy Performance Certificate is for
A legal requirement whenever a home is newly built, rented out or sold, an EPC contains important information about how an individual property uses energy.
If you've looked at homes for sale or rent on online property sites, you might have come across EPCs before. They are helpful for potential buyers and renters to make informed decisions about whether to proceed and how much they would spend on gas, electricity and hot water if they were to move into a new home.
However, it's not just useful information for buying and selling houses, but also to help you better understand and make improvements to the energy efficiency of your current home.
Energy Performance Certificates contain energy ratings from A to G along with important information about the property's typical energy costs. This includes indications for how much it will cost to heat and light the building, the amount of money that's likely to be spent on hot water, and how much CO2 the house emits.
Where you see gaps in the energy efficiency of your home, you can plan to make improvements through building work, DIY jobs and energy-saving habits.
What an EPC looks like
EPCs are displayed in a visual way that makes them relatively easy to understand. The information is presented in graphs, colour coordinated and labelled, with short and succinct explanations as to what the ratings mean for your household.
If you look at an EPC for the first time, it might appear familiar. That's because they look similar to colourful stickers that are often found on new household appliances.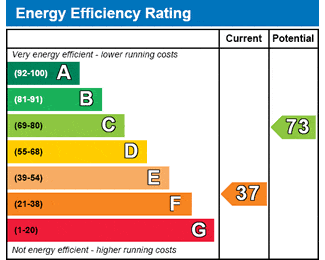 Like what you're reading? Get more in our monthly newsletter!
Get the latest news and articles straight to your inbox from Utility Saving Expert
What an EPC can tell you
The information included in an Energy Performance Certificate is:
an energy efficiency rating graded from A to G,
estimated running costs tailored to your home, and
energy performance features summarised.
In addition to details about energy usage and estimated costs, the Energy Performance Certificate will provide recommendations for:
increasing energy efficiency,
reducing energy usage,
using this insight to save money, and
estimated cost savings for implementing the suggestions.
The recommendations could include anything from having insulation fitted in your walls and roof to installing energy-saving light bulbs.
The EPC also provides an environmental impact rating to help you understand the property's carbon emissions.
This information provides you with a new perspective into how powering and heating your home contributes to climate change, whilst equipping you with the knowledge to make a difference with a greener, more energy-efficient and environmentally-friendly setup.
Energy efficiency rating
A section of your EPC will be dedicated to how energy efficient your property is, graded from A to G.
Grade A signifies the most energy-efficient rating. Homes with an A rating are often:
modern buildings,
with well-insulated roof and walls, and usually
with minimal impact from the weather experienced within the home.
Grade D falls in the middle of the energy efficiency scale. Homes with a D rating are often:
old buildings, and
without energy-saving technology or measures installed.
Grade G comes in at the bottom end of the scale as the least energy efficient. Homes with a G rating are often:
old buildings,
with draughts, and sometimes
with impact from the weather felt indoors, for example, the wind rattling the walls.
Who needs an EPC
Property developers, home-owners planning to sell a property and landlords planning to rent out a property are responsible for getting an EPC. This is so that buyers or tenants can be provided with this information, and you can expect a £200 fine if you don't comply.
EPCs for buyers or renters
It is not the responsibility of the buyer or tenant to pay for an EPC. Rather, it should be provided free of charge by the current owner of the property.
For commercial properties, you also need EPCs. For example, if you plan to buy a property that will be sold or leased.
You can commission an EPC even if you are not selling or renting a property and instead use the findings to make energy efficiency improvements and financial savings. However, you'll need to pay for the EPC to take place.
How to get an EPC
You'll need to enlist the help of an accredited assessor if you want to get an Energy Performance Certificate for your property.
The assessor will need access to the whole building. When they visit, they will examine areas such as the loft to check your roof insulation. They will also look at objects like your windows to identify whether you have double glazing, and your radiators to see how effectively they work.
After making their observations, the assessor will input these into a software programme to calculate the energy efficiency of your home.
Once the assessment has been made, you will be provided with a certificate. EPCs that have been issued after an inspection from an accredited assessor are valid for 10 years.
here is also an EPC register that stores existing certificates. You can use this register for free to find other Energy Performance Certificate ratings from properties in your area in order to compare the ratings to your home's EPC.
How to find an EPC assessor
You can find an accredited domestic energy assessor in your area by looking in the EPC register. Alternatively, you may find that your estate agent or lettings agent recommends an assessor.
How much EPCs cost
There isn't a fixed fee for an Energy Performance Certificate. The cost will vary depending on how large your home is, the number of bedrooms and the type of property it is.
Usually, the cost of an EPC is up to £120, and sometimes as little as half that price. It is the assessor who provides the quotes, and as the assessments are completed in an entirely unbiased manner, there's no benefit to paying more. It's worth shopping around and comparing quotes before you commit.
How to improve your Energy Performance Certificate rating
Outlined in your EPC, you will find clear recommendations for improving your Energy Performance Certificate rating by developing the energy efficiency of your building. This will include indicative costs to help you know what to expect, and how much you could save.
Typically, you will see suggestions relating to items in your home like your boiler. If your boiler is over 15 years old, the EPC will recommend that you replace it with a new condensing boiler, choosing a reliable model that is A-rated. Similarly, they might suggest you add an insulating jacket to a hot water tank, or install loft insulation or wall insulation.
There may also be suggestions for taking bolder steps, such as installing solar panels to create your own electricity using a renewable source.
What to do if you have questions about your EPC
After your assessor provides you with your Energy Performance Certificate, they will usually be happy to talk through the results with you.
If you disagree with the assessment or don't feel confident that you understand something on your certificate, ask the energy assessor about this.
If they can't resolve the problem, you can follow this up by contacting their accreditor, the details of which will be listed on your certificate.
Minimum Energy Efficiency Standards
There are a set of energy efficiency regulations called Minimum Energy Efficiency Standards, often abbreviated to MEES. These regulations ensure landlords of privately rented properties in the UK raise the energy efficiency of the homes they rent to an appropriate standard.
The MEES states that rented properties cannot have an EPC lower than grade E. Landlords with properties graded F or G cannot rent them until they make changes that improve energy efficiency, or face penalties of up to £4,000 if they fail to meet these minimum requirements.
However, there are some exemptions:
A single rented room within a house does not require an EPC. Nevertheless, if a house is split into flats, each flat needs an EPC.
Listed buildings cannot be modified and are therefore exempt from EPC requirements.
If a landlord cannot make improvements to raise the property grade to E unless they spend more than £3,500, they can also apply for an exemption.
Why get an Energy Performance Certificate
An EPC helps you to save money. By finding ways to improve your energy efficiency, you lower your energy bills. This also makes your property more environmentally friendly, so you'll be doing your part to fight climate change too. Furthermore, if you choose to sell your home in the future, higher EPC ratings will be beneficial to making a sale.
Another great way to reduce your energy bills is to compare our cheaper gas and electricity deals using Utility Saving Expert's online energy comparison tool.
Switch supplier and save up to £450.42* on your gas and electricity bills