What is is and where do find it?
MPAN: Meter Point Administration Number
Your MPAN number is an identifier that marks out the electricity supply point that is unique to your property.
You might be asked about an MPAN number if you are trying to find out about the electricity supplier for your home, or perhaps if you are in the process of switching business electricity contract.

Similarly, if you are enquiring about your energy bills or submitting a meter reading to your energy company, it's likely you will be asked to confirm your MPAN number.
Forming a 21-digit number, your MPAN is a reference number that your electricity supplier can use to identify your electrical supply point.
What an MPAN number means and what it stands for
In order to correctly identify your home's electricity supply point, it has its own unique number called an MPAN number.
Most properties only have one electricity supply point, but your electricity company will have thousands of supply points to deal with. If there was any sort of problem with your electricity supply, or if you needed to contact your energy company for another reason, such as to
switch electricity tariff
, referencing your unique MPAN number clarifies precisely which supply point you are talking about.
Your MPAN won't be the same as your customer account number. Similarly, it will be different from a case number if you are making a complaint. Rather, it is a unique number that exists for the sole purpose of identifying your supply point.
MPAN stands for Meter Point Administration Number, also commonly referred to as a Supply Number or sometimes simply S number, and its digits often start with an S to confirm the number is related to your supply.
Made up of 21 digits in a unique combination, the numbers in your MPAN might seem random, but they have specific meanings. Although you will never be asked to make sense of the 21-digit code, you might be interested to find out what your MPAN really means: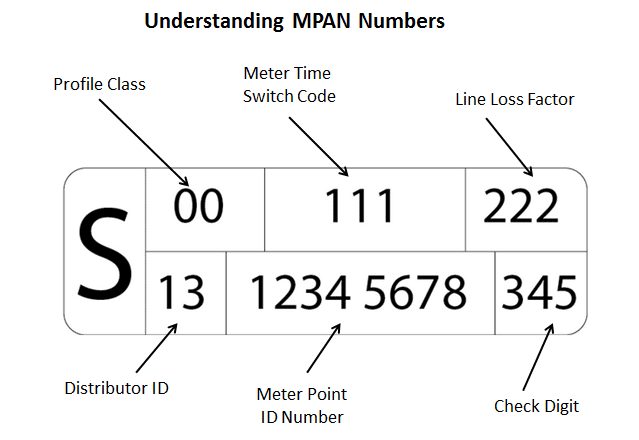 First two numbers after the S: Profile class
The property's Profile class tells your electricity supplier about your home's typical electricity consumption. Usually, domestic properties are classified as:
01 for domestic unrestricted customers, which covers most household energy supplies, such as customers on fixed-rate or standard variable tariffs.
02 for domestic Economy 7 customers on differential tariffs with lower prices during off-peak times.
Classifications from 03 and onwards are for business energy customers who use more energy.
Three numbers after Profile class: Meter Time Switch Code (MTC)
The MTC refers to whether your meter has a single rate or different rates for daytime and nighttime, or other seasonal times. Technically, this relates to how many registers or sets of dials or meter numbers there are.
Next three numbers after MTC: Line Loss Factor (LLF)
These three numbers indicate the amount your supplier will be charged for using the connecting cables that make up the electricity network in your area. These are called the Distribution Use of System (DUoS) charges from the distribution network.
Two numbers after LLF: Distribution ID
The regional distribution company that is responsible for managing the electricity supply through the wires to your home is identified through the Distribution ID. If you are trying to find out who operates the electricity network in your region, the Distribution ID might come in handy.
Next eight numbers: Meter Point ID
The following eight digits identify your metering point within your distribution area. These digits help everyone in your supply chain to establish specifically which meter point relates to your electric supply.
Final three numbers: Check digit
The last digits are a calculation of the Distribution ID and Meter Point ID. This calculation confirms both IDs are correct and provides a final verification to conclude your unique MPAN.
Like what you're reading? Get more in our monthly newsletter!
Get the latest news and articles straight to your inbox from Utility Saving Expert
Where to find your MPAN number
You will find your MPAN listed on your electricity bills. It should not be confused with your account number or customer number, however, it's possible that it may be called a supply number.
Unlike with your MPRN, which is the equivalent of an MPAN that is specific to the gas network, you won't find your MPAN displayed on your electricity meter.
Often the MPAN will be printed on the first page of your bill, or perhaps on the reverse side of the first page. If you have opted for paperless billing, you'll be able to find the MPAN on digital versions of your energy bills.
Some electricity companies display the Meter Point Administration Number within a bordered box on your bill so that it stands out, making it easy to reference if you need to contact your supplier.
Regions, DNOs and MPAS contact numbers
If you cannot access a past electricity bill to check your MPAN, you can contact your local Distribution Network Operator (DNO) to obtain it.
Find out which DNO covers your area using the list below, then call their Meter Point Administration Service.
North Scotland
DNO: Scottish and Southern Electricity Networks
MPAS phone number: 0800 048 3515
Central and Southern Scotland
DNO: SP Energy Networks
MPAS phone number: 0330 1010 300
North East England and Yorkshire
DNO: Northern Powergrid
MPAS phone number: 0800 011 3332
North West England
DNO: Electricity North West
MPAS phone number: 0800 195 4141
Merseyside, Cheshire, North Wales & North Shropshire
DNO: SP Energy Networks
MPAS phone number: 0330 1010 300
East Midlands & West Midlands
DNO: Western Power Distribution
MPAS phone number: 0800 096 3080
South Wales & South West England
DNO: Western Power Distribution
MPAS phone number: 0800 096 3080
London, South East England & Eastern England
DNO: UK Power Networks
MPAS phone number: 0800 029 4285
Southern England
DNO: Scottish and Southern Electricity Networks
MPAS phone number: 0800 048 3516
Northern Ireland
DNO: Northern Ireland Electricity Networks
MPAS phone number: 03457 643 643
The person you speak to on the phone may ask you to confirm your postcode and address. They can then provide you with 13 digits from your MPAN over the phone. These are the core digits that are displayed as the second row of numbers, which include the:
Distribution ID,
Meter Point ID,
Check number.
Usually, this set of core numbers will be enough for your electricity supply chain to identify your meter. However, if you need the full 21-digit MPAN number, you can write to your DNO to request this. Some DNOs also offer an online service.
When you might need your MPAN number
Typically, when you start a new electricity contract, the energy company will request your MPAN.
MPAN numbers are connected to your property rather than to the energy firm that supplies your electricity. They won't be able to give you a new MPAN and instead will need you to provide your home's MPAN as part of their process of getting you on board as a new electricity customer.
When you move house, you'll also need to know your MPAN, especially if you plan to stay with your existing electricity provider. To make the transfer of your energy deal to your new house as smooth as possible, make sure you have the Meter Point Administration Number of both your new home and your old property to hand.
If you don't know the MPAN of the property you're moving into, you can find out by contacting your local DNO. Alternatively, if you're comfortable to contact the past tenants or homeowners, you could ask the people who used to live there to tell you the MPAN.
The difference between an MPAN an MPRN
Your MPAN is a unique reference to your electricity supply point, and there is an equivalent for your property's gas supply, which is known as an MPRN. Typically made up of six to ten digits, the MPRN stands for the Meter Point Reference Number, and is sometimes called the M number.
Just like you can find the MPAN on your electricity bills, you will also find the MPRN printed on your gas bill. However, in contrast to the MPAN, you can also locate the MPRN by looking at your gas meter, where it will be physically printed. Although the MPRN is located on your gas meter, it should not be confused with the meter's serial number.
When you move house and you want to find out your new property's current gas supplier, you can call the National Grid's Meter Number Helpline on 0870 608 1524 and tell them your new MPRN, along with your postcode and address, and they will tell you who your current gas provider is.
How to switch electricity supplier
Use Utility Saving Expert's online energy comparison tool to compare gas and electricity deals and switch to a cheaper deal.
All you need to do is input your postcode and add some information about your energy usage from a recent energy bill.
Our comparison technology will generate a vast range of competitively-priced energy deals displayed in a straightforward, easy to understand way so that you can quickly compare and switch to the best deal for you.
Switch supplier and save up to £450.42* on your gas and electricity bills