Utility brokers for UK businesses: How to choose an energy broker
When it comes to managing business energy, it's not just about flicking a switch. Making informed decisions is crucial, and understanding your options is the first step.
With a myriad of suppliers and tariffs to navigate, it can feel overwhelming. That's where utility brokers step in, offering a guiding hand through the maze.
This guide will demystify the world of utility brokers for businesses. We'll delve into their role and provide insights on choosing the right broker for your needs. So, grab a cuppa, and let's get started.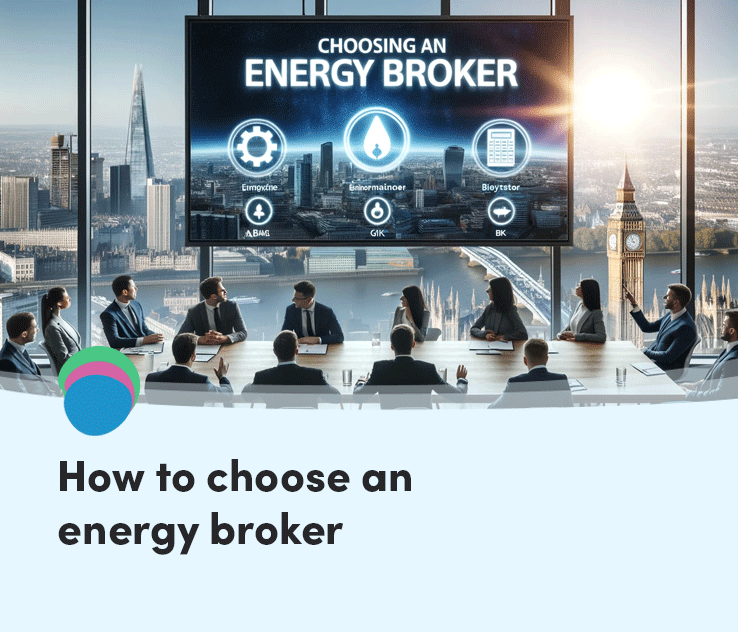 What is an energy broker?
An energy broker is a professional intermediary that plays a pivotal role in connecting businesses with energy suppliers. Their primary mission is to secure the most advantageous energy deals that align with a business's specific requirements.
Diving into their role and responsibilities, energy brokers don't merely select any available deal. They actively engage in negotiations, ensuring that businesses benefit from favourable terms and competitive prices. They act as the bridge between the customer and the supplier, demystifying the often intricate world of energy tariffs and contracts.
When it comes to their mode of operation, energy brokers have a distinct approach. They maintain relationships with a diverse range of energy suppliers, from industry giants to smaller independent providers. This extensive network empowers them to present businesses with a curated selection of options, ensuring an optimal fit for every unique need.
It's also crucial to note that energy brokers typically operate on a commission basis. This means that for every contract they facilitate, they earn a fee directly from the energy supplier. However, this commission-based model doesn't compromise their commitment to clients. A reputable broker's standing in the industry is built on consistently delivering genuine value to their clientele.
With the ever-evolving dynamics of the energy market, having an adept broker by your side can be invaluable. They manage the intricate details, from meticulous negotiations to administrative paperwork, freeing businesses to concentrate on their core operations.
---
Why should businesses consider using an energy broker?
Energy brokers offer expert negotiations to secure competitive prices, simplify the complex energy market for businesses, manage administrative tasks, ensure transparency to avoid hidden charges, and continuously monitor contracts for optimal value.
Expert Negotiations
Energy brokers possess the expertise to negotiate contracts. Their deep industry knowledge and relationships with suppliers enable them to secure competitive prices and favourable terms. This expertise often translates into deals that businesses might struggle to achieve independently.
Comprehensive Market Comparison
The energy market is vast, with countless suppliers and tariffs. Navigating this landscape can be daunting. Energy brokers simplify this process, meticulously sifting through options to present businesses with the best matches based on their unique requirements.
Time and Effort Savings
Managing energy contracts isn't just about finding the best deal; it's also about the time and effort involved. Energy brokers handle the intricate details, from negotiations to administrative tasks, allowing businesses to channel their focus on core operations.
Avoiding Hidden Charges
The energy market can sometimes be a minefield of hidden charges and pitfalls. Brokers, with their in-depth understanding, ensure transparency in every deal, helping businesses sidestep any unforeseen costs.
Continuous Monitoring
Securing a contract is just the beginning. Many energy brokers offer ongoing services, continuously monitoring bills and market trends. This ensures that businesses remain on the best value deals throughout their contract's duration5.
In essence, an energy broker acts as a business's trusted ally in the energy market, simplifying complexities and ensuring optimal deals at every turn.
---
How do energy brokers differ from energy consultants?
Energy brokers and energy consultants both operate within the realm of business energy, but their roles, methods, and compensation structures differ significantly.
Energy brokers vs energy consultants
| Aspect | Energy Broker | Energy Consultant |
| --- | --- | --- |
| Primary Role | Secure energy contracts | Analyse and advise on energy strategy |
| Compensation | Commission from suppliers2 | Fee-based4 |
| Relationship | Intermediary between businesses and suppliers | Direct advisory role to businesses |
| Depth of Service | Contract negotiation and management | Holistic energy management and efficiency advice |
Energy Brokers
Energy brokers act as intermediaries between businesses and energy suppliers. Their main objective is to secure the best possible energy deals tailored to a company's specific needs. They navigate the market, leveraging their relationships with suppliers to negotiate contracts and ensure businesses benefit from competitive prices and favourable terms1. Typically, energy brokers operate on a commission basis, earning a fee directly from the energy supplier for every contract they facilitate.
Energy Consultants
On the other hand, energy consultants delve deeper into a business's energy consumption patterns and overall energy strategy. They provide insights into energy efficiency, carbon footprint reduction, and other holistic approaches to energy management3. Unlike brokers, consultants often operate on a fee-based model, charging businesses for their expert advice and services. Their focus extends beyond just securing contracts; they aim to offer comprehensive energy solutions that align with a business's long-term goals.
While both energy brokers and consultants aim to assist businesses in the energy sector, their approaches and areas of expertise differ. Choosing between them depends on a business's specific needs and objectives.
---
How to choose the right energy broker for your business
Choosing the right energy broker is about finding a professional who understands your business's unique energy needs and can navigate the market to secure the best deals on your behalf.
Market Representation and Independence
It's essential that the broker represents a broad spectrum of suppliers, including both the 'Big 6' and smaller, business-only suppliers. An independent broker can procure quotes from a variety of suppliers without bias, ensuring they're genuinely working in your best interest.
Reputation and Expertise
Research the broker's track record, looking for client testimonials, industry awards, and years of experience. Their knowledge of energy consumption patterns, market trends, and contract nuances will be crucial in providing valuable advice and securing optimal contracts.
Transparency and Ongoing Support
Clear communication about their commission structure and any associated fees is vital. Additionally, the energy market's dynamic nature means you'll benefit from brokers who offer continuous monitoring and support, ensuring your business remains on the best deal throughout the contract's duration.
---
What questions should you ask an energy broker?
When considering an energy broker for your business, it's essential to ask the right questions to ensure they align with your needs and can deliver the best results. Here are some pivotal questions to guide your decision-making:
Commission and Fees

How is your commission structured? It's crucial to understand how the broker is compensated. Most energy brokers work on a commission basis, earning a fee directly from the energy supplier for every contract they facilitate1. Ensure there are no hidden fees by asking for clarity on their commission structure.

Supplier Relationships

Which energy suppliers do you work with? Brokers often have a range of suppliers they work with, including both major and smaller independent providers. Knowing this can give you insight into their market reach and the diversity of options they can offer.
Are you independent or affiliated with specific suppliers? An independent broker can provide unbiased advice, ensuring they're genuinely working in your best interest.

Service Scope

What services do you offer beyond contract negotiation? While the primary role of a broker is to secure contracts, some might offer additional services like ongoing monitoring, bill analysis, or energy efficiency advice.
How do you handle contract renewals? Understanding their approach to renewals can ensure you're not caught off-guard when your current contract nears its end.

Track Record and Expertise

Can you provide client testimonials or case studies? A broker's reputation can be gauged by their past performance and feedback from other businesses they've assisted.
How do you stay updated with market trends and changes? The energy market is dynamic. A broker's ability to stay abreast of market shifts can impact the deals they secure for you.
By asking these questions, you'll be better equipped to select an energy broker that aligns with your business's goals and energy needs.
---
Which businesses would benefit from using an energy broker?
Virtually any business that consumes energy can benefit from using an energy broker. However, the advantages become particularly pronounced for certain types of businesses:
High Energy Consumers
Businesses that operate machinery or have extensive operations often have significant energy needs. For them, even a slight reduction in energy costs can translate into substantial savings. An energy broker can help these businesses secure competitive rates, ensuring cost-effectiveness1.
Businesses with Fluctuating Energy Needs
Companies with seasonal operations or varying production schedules can face challenges in predicting their energy consumption. Energy brokers can assist in finding flexible contracts that accommodate these fluctuations.
Small to Medium Enterprises (SMEs)
While large corporations might have dedicated teams to manage energy contracts, SMEs often lack this luxury. An energy broker can act as an external energy department for SMEs, handling negotiations, renewals, and administrative tasks.
New Businesses
Start-ups or businesses moving to new premises might be unfamiliar with the energy market landscape. Brokers can provide valuable insights, ensuring these businesses start on the right foot with optimal energy contracts.
Environmentally Conscious Businesses
For businesses aiming to reduce their carbon footprint, energy brokers can identify green energy suppliers or contracts that align with their sustainability goals.
In essence, while many businesses can benefit from an energy broker's expertise, those with specific energy needs or constraints stand to gain the most.
---
How do business energy brokers compare suppliers?
Business energy brokers play a pivotal role in helping businesses navigate the complex energy market to secure the best deals. When comparing suppliers, brokers employ a systematic approach:
Market Analysis
Brokers keep a keen eye on market trends, ensuring they're always aware of shifts that could impact energy prices. This knowledge allows them to anticipate potential cost-saving opportunities for businesses1.
Contract Evaluation
Every energy contract comes with its terms and conditions. Brokers meticulously review these, focusing on contract length, price per kilowatt-hour, and any associated clauses. They ensure that the terms align with the business's energy consumption patterns and financial goals.
Comprehensive Supplier Assessment
While it's not standard practice for brokers to compare every supplier in the market, most have a list of preferred suppliers. This list is curated based on their relationships, supplier stability, and reputation. Brokers pull quotes from this roster, ensuring they present businesses with the best options.
Non-Commodity Costs
Beyond the basic energy price, there are other charges, known as non-commodity costs, that can significantly impact a business's energy bill. Brokers factor in these costs, which can include network charges and government levies, to provide a holistic comparison.
Client-Specific Requirements
Before diving into comparisons, brokers gather essential information from businesses. This includes the business address, current supplier details, previous monthly invoices, and specific meter numbers (MPAN/MPRN). Armed with this data, brokers can tailor their comparisons to the unique needs of each business.
---
What are the pros and cons of using an energy broker?
Using an energy broker can offer numerous advantages to businesses, but it's also essential to be aware of potential drawbacks. Here's a comprehensive look at the pros and cons:
Pros:
Cost and Time Efficiency: Employing an energy broker can lead to significant savings, both in terms of money and the time you'd spend comparing energy deals yourself.
Expertise: Brokers have in-depth knowledge of the energy market, ensuring you benefit from industry insights and expert advice.
Better Understanding of the Market: With a broker's guidance, businesses can gain a clearer picture of the energy landscape and how it impacts them.
Access to Information: Brokers provide businesses with easy access to their energy data, helping them make informed decisions.
Reduced Consumption: With insights from brokers, businesses can identify areas to cut down energy usage.
Tailored Solutions: Brokers understand the unique energy needs of different businesses and can find deals that align perfectly with those requirements.
Cons:
Limited Comparisons: Some brokers might only compare deals from a select list of preferred suppliers, potentially missing out on other beneficial deals.
Additional Expense: While brokers can save businesses money in the long run, their commission is an added cost to consider.
However, it's worth noting that the value added by a broker occasionally outweighs the associated costs. A transparent energy consultant will clearly demonstrate the savings on a new energy deal, even after accounting for broker fees.
---
What's the difference between an energy broker and a price comparison website?
At their core, both energy brokers and price comparison websites aim to help businesses find the best energy deals. However, their approaches and services differ in several key ways:
Energy Broker:
Personalised Service: Energy brokers offer a tailored service, understanding a business's unique energy needs and consumption patterns.
Expert Negotiation: Brokers negotiate directly with energy suppliers on behalf of their clients, often securing exclusive deals not available to the general public.
End-to-end Management: From pricing to paperwork, energy brokers handle the entire process of changing your energy contract, ensuring a seamless transition.
In-depth Market Knowledge: Brokers possess expertise in the energy market, providing guidance on areas such as tax, regulatory issues, and energy efficiency.
Price Comparison Website:
Broad Overview: Comparison websites allow businesses to compare a range of energy tariffs at their convenience, giving a snapshot of the market.
Self-Service: These platforms are useful for businesses comfortable with changing their energy provider independently.
Instant Results: With a few inputs, businesses can quickly view a list of comparable prices for energy contracts.
Utility Saving Expert – A Hybrid Approach:
Utility Saving Expert combines the best of both worlds. As a hybrid platform, we offer a broad overview and convenience of a comparison website while also providing the personalised service and expert negotiation typical of an energy broker. This ensures businesses get the most comprehensive and tailored energy solutions.
While energy brokers provide a tailored service and manage the entire switching journey, price comparison websites empower businesses with tools to independently compare and select energy tariffs. Utility Saving Expert seamlessly merges these approaches, delivering a distinctive combination of services to meet varied business requirements.
---
How can Utility Saving Expert help you as your energy broker?
Utility Saving Expert is more than just an energy broker. We're a comprehensive solution for businesses seeking the best in business electricity, business gas, and overall business energy deals.
Combining the personalised touch of traditional brokers with the broad insights of comparison websites, we offer a unique approach. Our expert team negotiates directly with suppliers, ensuring competitive rates. At the same time, our platform provides a clear, instant overview of the market.
With Utility Saving Expert, businesses can confidently secure optimal energy contracts tailored to their specific needs.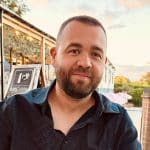 Chris Richards
Chris is a personal finance specialist who founded Council Tax Advisors in 2012, assisting over 250,000 people with their Council Tax debt. Observing that many clients overpaid on utilities, he launched Utility Saving Expert in 2014, an energy price comparison site. In 2016, the platform expanded its services to include consumer and business insurance comparisons. Utility Saving Expert stands out with its commitment to social responsibility, donating 10% of net profits to fuel poverty charities, underscoring its dedication to both client value and community support.