Bouncy Castle Insurance
Compare bouncy castle insurance quotes
Complete one short form
Quickly compare quotes
Find a great deal today
Get Quotes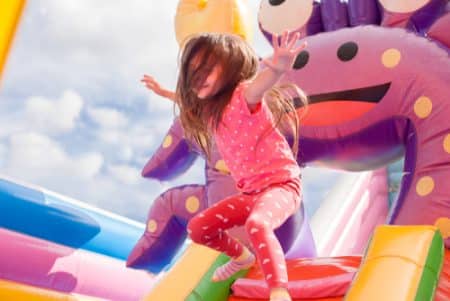 Low cost
bouncy castle insurance

cover

Bouncy castles can be lots of fun. We associate them with kid's parties and fun days out in the sun with our friends and families.

Sadly, there is also a dark side to bouncy castles – to both the owners of the rental companies as well as the people enjoying them for the day. That is because injuries can happen, with a reported 10,000 bouncy castle injuries occurring in the UK annually.

Whether you are the owner of a bouncy castle business or planning an event where there will be a bouncy castle, you should consider bouncy castle insurance.

With a good insurance policy, you can rest assured that you will be covered should any injuries or accidents occur.

This guide will look at which insurance you should consider and how to protect your bouncy castle business.
---
Who should consider bouncy castle insurance?
You will need bouncy castle insurance in the following two instances:
You own a company that rents bouncy castles or inflatables to the public.
You are planning an event where there will be a bouncy house or other inflatables.
Like what you're reading? Get more in our monthly newsletter!
Get the latest news and articles straight to your inbox from Utility Saving Expert
What insurance would I need for a bouncy castle business?
Bouncy castle and inflatables business owners are not yet required by law to have an insurance policy in place. However, there are certainly some coverages that you will require to protect yourself and your business from accidental damage and injuries.
Public Liability Insurance
Public liability insurance is crucial for bouncy castle companies as the biggest risk to your company is an accidental injury to a member of the public.
Bouncy castles can get punctured and collapse, or get blown over in strong winds, which could result in moderate to severe injuries to those playing on them. Even if there is nothing wrong with the bouncy castle, people can still get injured when playing or jumping too roughly and falling down, accidentally hurting themselves.
In this instance, public liability insurance will pay for any legal fees or compensation claims made against your company if the injured third party sues you for damages or injury.
Injury that can occur is when a child (or adult) gets injured while using your inflatables. Damages can occur when the inflatables blow away and can damage nearby property or vehicles.
Not all insurance companies will sell public liability insurance to owners of bouncy castle companies because of the high risk of injury in this company. Those that do provide this cover may include specific policy endorsements, stipulating certain precautions you should keep in mind.
Employers Liability Insurance
Employer's liability insurance is a legal requirement if you have any employees working for your company. This includes part-time employees.
This insurance will cover any legal fees or claims against you if an employee becomes injured or suffers any damages due to the work they do for your company.
For example, an employee can trip and fall over the power cord of the bouncy castle, or injure their back while setting up the inflatables, and claim damages from you.
Equipment Cover
Before starting to rent out bouncy castles, you will want to make sure you have your equipment covered. Considering how expensive inflatables and bouncy castles are to purchase, you want to make sure that your equipment is covered from breakages or theft.
Without your inflatables, you cannot run your business, so this type of cover will ensure that you have the means to replace your equipment before suffering a financial loss from not being able to operate.
Most insurance companies will consider the age and condition of your inflatables when a claim occurs, as older bouncy castles are more likely to break or get damaged when used. When your equipment gets stolen (for example, if it disappears from a client's home), this cover will be able to replace your equipment without you having to pay out of pocket.
Other insurance considerations
Owners of bouncy castle businesses should also consider the following cover types:
business interruption cover
vehicle (especially commercial vehicle) insurance
What insurance would I need for organising an event with a bouncy castle?
Even if you do not own a bouncy castle, and you are simply organising an event where a bouncy castle or another inflatable will be present, you should still consider getting insurance to protect you should an accident occur.
Public Liability Insurance
When you are organising an event where there will be a bouncy castle, you should consider getting public liability cover.
Even if the company you are renting the inflatable from has got this type of insurance, third parties can still hold you, the event planner, liable for any damages or injury.
Should the guests at the event consider you to be responsible for those using the bouncy castle, they will also hold you responsible for any injuries that may occur.
Before spending money on this type of insurance, make sure to contact the inflatables business to ask whether their public liability insurance will cover you as their client. It is still always better safe than sorry, so make sure you see their bouncy castle insurance policy to have peace of mind that you are covered.
Make sure to contact Utility Saving Expert to compare quotes for public liability cover.
Personal Liability Insurance
Consider taking out personal liability cover if you are organising an event at your own home and will have guests over to enjoy the bouncy house you hired for the day.
Should any of your guests suffer an injury on your property, you may find yourself on the wrong side of a legal case. Having this type of cover will help to cover legal fees.
How can you protect your bouncy castle company?
There are several steps that bouncy castle business owners can take to ensure their business is protected from financial loss due to claims, theft, damages or injuries to third parties.
Event Cancellation Insurance
This is a very specific type of insurance but will be of great help to bouncy castle business owners.
Bouncy castles and other inflatables are often hired for large events – in fact, events are the main income stream for these types of businesses. Unfortunately, unforeseeable events can often lead to events being cancelled, and this means a business owner will miss out on some much-needed income.
By having event cancellation insurance, you will be covered when an event gets cancelled, and you have lost money due to expenses already paid or a loss of income.
Business Interruption Insurance
With many people looking for bouncy houses in summer, this is the busiest time for inflatable businesses. But, what would happen to such a business if their equipment is damaged and cannot be used? Or if key staff members are sick or injured and cannot help to run the business?
In such a case, business interruption insurance can help to cover any expenses until the business is able to run again.
Business insurance or equipment cover that covers theft
Unfortunately, theft is a part of life, and even large bouncy castles can go missing without a trace – from your company's premises or from the premises of a client.
Having insurance to cover the replacement cost of new equipment should you experience theft is key and will prevent you from having to replace your inflatables out of pocket.
Business insurance or equipment cover that covers damages
Damage to a bouncy house can be either malicious (such as a child stabbing it with a sharp object) or an accident (such as a belt button damaging the equipment, causing it to deflate).
In such instances, you will want to have an insurance policy that covers damages to your equipment to either repair it or have it replaced. The replacement inflatable will be in the condition or age as the one that is no longer working.
You will have the option of new-for-old cover but will have to address this with your insurance company.
Use an insurer that knows the industry
There are not a lot of insurers who offer bouncy castle insurance because of the risks associated and the high chance of injury and damage.
The best way to protect your bouncy castle business is to work with an insurance provider that has previous experience in this industry. Experts will also explain to you which kinds of cover would be best for your business.
Shop around for the best insurance company
It is important that you compare bouncy castle insurance quotes to make sure you get the best deal possible for your company. At Utility Saving Expert, we can help you find the perfect insurance quotes to suit your needs.
Although it is not a legal obligation in the UK to have public liability insurance for your bouncy castle business, it is probably a good idea as it can protect you from any compensation claims and legal fees should accidental damage or injury occur due to your bouncy castles.
Do all bouncy castles and inflatables require insurance?
Although it is not a legal requirement, getting bouncy castle insurance is a great idea if you are hiring out your inflatables to the public, as it will protect you financially in the case of an accident or injury to a third party.
How much will bouncy castle insurance cost?
The cost of bouncy castle insurance will depend on the insurance company you use, the size of your company, how many inflatables you have, and the condition of your equipment. It can cost as little as a few hundred to thousands of pounds each year.
Do I need public liability insurance for my bouncy castle business?
Public liability insurance is not a legal obligation for bouncy house businesses, but it will be a good idea as the risk of injury to your clients using the bouncy house is relatively high.