Food Delivery Insurance
Compare fast food delivery insurance quotes
Cover for Uber, Just Eat & Deliveroo drivers
Complete one short form
Find a great deal today
Get Quotes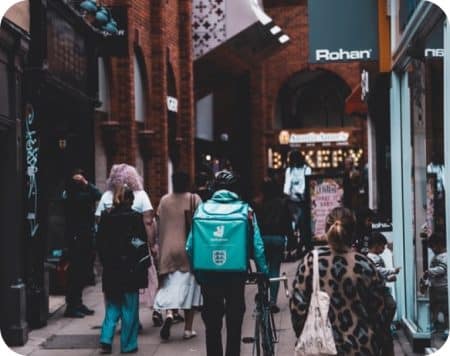 Compare
fast food delivery driver insurance

for couriers

The fast food delivery market is booming, and it's expected to be worth close to £12.6 billion by 2024. The appeal of takeaway deliveries isn't new.

Hot food delivery has been popular with customers since the 1990s, and we can find evidence of food delivery in history that suggests it goes back centuries. In more recent years, we've seen the internet reshape the way that people shop, which has paved the way for a resurgence in the food delivery industry.

Food delivery apps have changed the way we order takeaways. Customers can choose their food and have meals sent to their door with a few taps on an app on their phone, tablet or laptop, or even with a simple voice request using Alexa, Siri or Google. This has allowed the restaurant industry to thrive in a whole new way, opening up job opportunities for drivers and riders in the food delivery sector.
---
Business car insurance for hot food delivery
You can insure your own vehicle for Deliveroo, Just Eat, Uber Eats and Stuart deliveries, but you'll need a specialist fast food delivery insurance for while you're working. Standard car insurance policies don't cover you if you're delivering food from restaurants or takeaways.
Food delivery insurance is a subset of business car insurance, specifically designed for the food delivery industry. These insurance policies can have different names depending on the insurance company. Look out for any type of hire or reward car insurance policy or courier car insurance policy to cover you when you're using your car to make a delivery.
Takeaway delivery insurance comes in many shapes and sizes, but by adding just a few details, you can search through a range of results with quotes tailored to suit your needs.
Find great fast food insurance policy deals
Coverage for takeaway driving can come at a high price, but it's important to ensure you have the right type of insurance policy in place so that you are fully protected if you are involved in an incident, even if it wasn't your fault. When you weigh up the cost of the correct policy with the risk of losing your vehicle or job, it is probably an easy decision.
However, that doesn't mean you can't secure a deal that provides great value. Compare market leading fast food delivery insurance prices from specialist insurers using Utility Saving Expert. By shopping around, you'll be able to select from the most competitive prices and choose the insurance policy that's best for you.
Find your food delivery insurance cost by comparing quotes and get insured in three short steps:
Use our online fast food delivery insurance quotation tool at Utility Saving Expert
Input a few key details about you, your vehicle, and driving history, plus the type of fast-food deliveries you'll be making.
Speak to a number of specialist food delivery insurance brokers to find a great deal.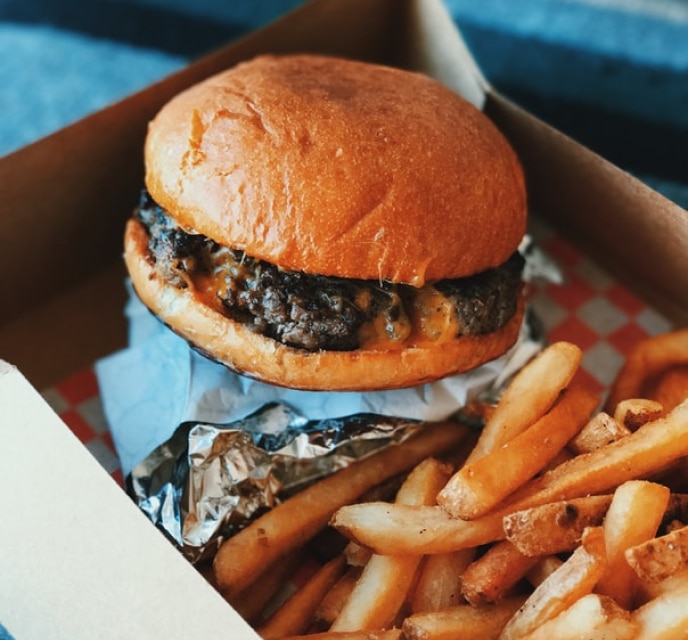 Why do takeaway courier insurance policies cost more?
Getting insured for fast food delivery may cost more than your personal car insurance. From an insurer's perspective, the conditions of fast food delivery services pose a risk.
The average delivery time is 30 minutes, and late delivery is currently the number one frustration for consumers. This increases the expectation for drivers to deliver food to the customers quickly, before it gets cold, increasing their likelihood of driving fast or under stress.
On top of this pressure, you'll be spending more time on the road than the average driver. If you operate a motorbike, scooter or bicycle, you face additional risks on the roads. To protect yourself in the unlikely event of an accident, it pays to find the right level of car insurance from a reliable insurer to cover your type of vehicle and nature of work.
Compare cheap takeaway food courier insurance policy quotes
Factors that affect your fast food insurance
There are a number of factors at play that raise the cost of insurance, including:
Long periods of driving
It's likely that you'll spend a lot of time in your car while you're on the clock. Even if you're an excellent driver, the more time you spend driving, the more likely you are to be involved in a road accident.
Second job fatigue
The flexible nature of food delivery work means that it is easy to pick up shifts on top of other work in your daily routine, so for some drivers, food delivery is a second job. You may feel tired after finishing work at another job, and tiredness can lead to road accidents.
Time pressure
You might find yourself racing against the clock to ensure you deliver food from the restaurant to the customer before the meal has gone cold. Deadlines can be tight, and unfortunately, this added time pressure could lead to more accidents.
Working conditions
Driving long hours, covering a lot of miles and often working late at night, in darkness and sometimes in poor weather conditions. These conditions can increase the likelihood of road accidents happening.
Comparing business insurance with Utility Saving Expert
Our comparison tool is 100% independent and impartial, meaning we'll always show the best quotes, no matter which insurer they come from. The results are tailored to your needs and generated within a matter of minutes, saving you both time and money.
UK's leading socially-conscious comparison site
Guaranteed to provide the best possible deals
Partnered with hundreds of trusted providers
Access to fast food delivery insurance in minutes
5-star customer reviews
How to choose the right fast food courier insurance policy
There are a lot of options to insure you whilst you work, and it's useful to consider a few key factors relating to the service you'll be providing. For example, the amount of goods you'll be delivering:
Transporting small amounts of food across relatively short distances, or
Delivering several packages across larger distances
Some insurers are moving towards a pay-as-you-go pricing model, suiting part-time, evening and weekend food delivery drivers looking for a flexible policy that matches their schedule. Other insurers offer 30-day insurance policies, giving you the same level of flexibility that you get with your job.
For food delivery insurance, some providers place a high value on experience and will only insure you if you're aged 21 and over. Other insurers will offer unlimited mileage, meaning there is no cap or restriction on how many miles you can drive.
You might choose a policy for your delivery work that also covers you whilst you are off duty too, replacing your current car insurance policy. For larger operations involving multiple delivery riders or drivers, some businesses will choose to insure a fleet of vehicles.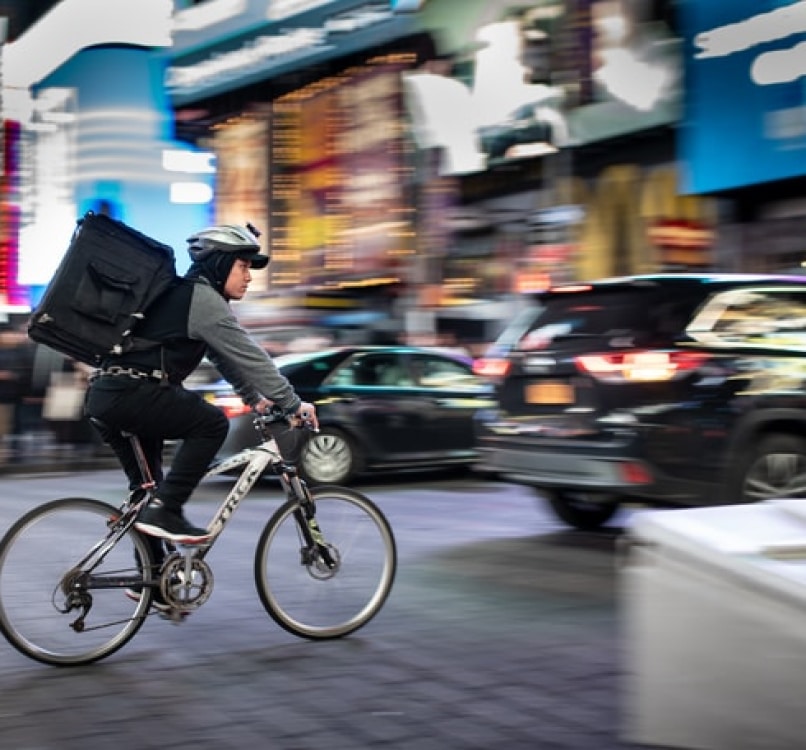 Get the right business insurance cover for your delivery vehicle
It's a legal requirement to have the right insurance. Make sure you select a policy that reflects the correct type of business vehicle insurance, whether that's for cars, bikes, scooters or vans used for hot food delivery.
If you discover you did not take out the correct cover after you are involved in an accident, you may have invalidated your insurance policy and the insurer could refuse your claim. This would leave you liable for damages and potentially a large sum of money, so it's important to take extra care.
Whatever your circumstances, there will be an insurer offering the right policy for you. Compare deals online to find the level of insurance cover that you need to set your mind at ease, so you can deliver food knowing that there will be no nasty surprises and that you'll be fully insured if there is a road accident.
Insurance when delivering by van
If you'll be using a van to deliver food, you'll probably need to extend your insurance cover to catering van insurance or courier vehicle insurance. Courier work is usually covered under "carrying of goods for hire or reward".
Insurance when delivering by car
If you will be using your own car to deliver meals, this activity will likely be classified as business use. Specialist car insurance companies might quote you for hire and reward insurance or hot food delivery insurance.
Fast food delivery by motorbike, moped or scooter
If you will be riding your scooter, moped or motorbike to deliver food, you'll need to choose the right cover for your business use. Quotes will also vary depending on your vehicle and engine size, and usually smaller scooter engines are cheapest.
Fast food delivery by bicycle
For delivery riders travelling by bicycle, you can take out a cycling liability policy to cover accidents causing damage to other vehicles, third-party property, or even to other people. It is not a legal requirement to take out insurance, so it's completely your choice. You can also take out standard cycle insurance in case your bike gets lost, damaged, or stolen.
Compare fast food takeaway courier car insurance quotes
Why do I need fast food courier insurance?
It is essential to have fast food courier insurance, whether you are a self-employed delivery driver or work for an organization such as Deliveroo, Just Eat, or Uber. If the driver were to have an accident while delivering food, they would be at risk of facing expensive compensation claims.
The reason for this is that most car insurance policies do not cover food deliveries when they are performed professionally. It is illegal to drive without courier insurance and those who do so risk serious consequences. Deliveries drivers must be well-equipped with a valid driving license, breakdown cover, and courier insurance in order to ensure a safe and hassle-free journey.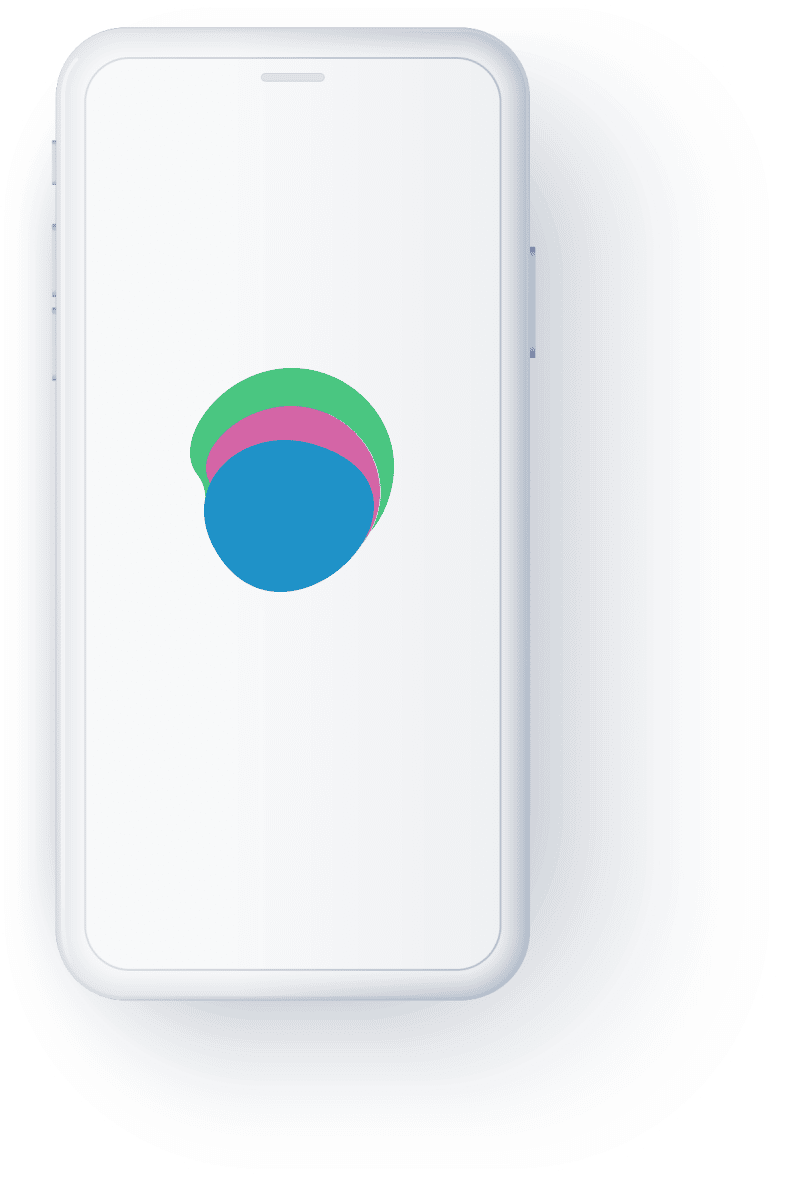 Switching your takeaway car insurance cover
If you already have fast-food driver cover, use Utility Saving Expert to find a better deal and switch when it's time to renew your insurance policy.
It's important that you stay savvy and shop around instead of renewing your existing insurance cover so that you can find a deal offering the best value for money. You might find a better policy with your existing provider, for example, with lower premiums.
Use our business comparison tool to browse through fast food courier policies from a wide range of business insurance providers to find the best possible deals.
It takes just a few minutes to find cheap food delivery insurance to cover your fast food delivery courier job. Don't waste time or take chances, compare fast food insurance coverage now so you can start working flexibly, knowing you are fully protected.
Frequently Asked Questions (FAQs)
Do you need special insurance to deliver food?
Yes, you need special insurance to deliver food.
How much does food delivery insurance cost in UK?
The cost of food delivery insurance in the UK varies depending on the level of cover required. It typically ranges from £8 to £20 per month.
What is food delivery insurance?
Food delivery insurance is a type of business insurance designed to protect food delivery services from any liability or risks associated with their operations.
Is fast food delivery insurance expensive?
Fast food delivery insurance is not necessarily expensive, however, the cost of coverage may depend on the level of protection required.
Why is delivery insurance so expensive?
Delivery insurance can be expensive because it provides coverage for a wide range of risks and liabilities associated with the delivery of food.
Is food delivery insurance the same as business insurance?
No, food delivery insurance is not the same as business insurance. Business insurance typically covers a broader range of risks and liabilities related to a business, while food delivery insurance is specifically tailored to the needs of food delivery services.