Motor Trade Insurance
Compare cheap motor trade insurance quotes
Complete one short form
Quickly compare quotes
Find a great deal today
Get Quotes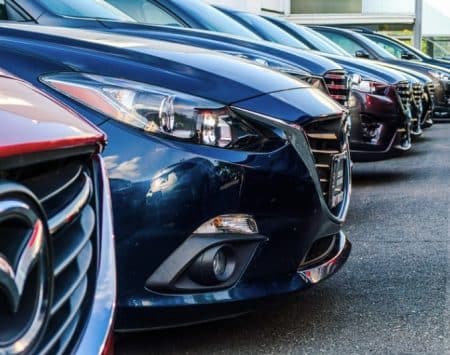 What is motor trade insurance ?
Motor trade insurance, or traders' insurance, is a tailored policy crafted for the automotive industry, ensuring cover for employees handling customer vehicles and the company's own fleet. It's indispensable for various sectors, including repair, servicing, and sales, providing comprehensive cover for all team members, regardless of their experience level.
When selecting the right policy, it's crucial to understand the specifics of what is covered, including the vehicles and scenarios protected, as well as assessing the level of protection, considering liability limits and deductibles. This detailed attention ensures that you choose a policy that fits your business's unique needs.
Beyond driving customer cars, motor trade insurance is vital for any business interacting with customer vehicles, offering a safety net and peace of mind for both motor traders and clients, and safeguarding against unexpected risks.
Related Read: What is motor trade insurance?
---
How does a motor trade insurance policy work?
Motor trade insurance is specifically designed to offer protection for vehicles under your care, custody and control, addressing risks such as loss, damage, and theft.
Tailored to meet the unique needs of the automotive industry, it ensures that you have the necessary cover in place, whether you're dealing with customer vehicles or managing your own fleet.
The cover and cost of the policy depend on your specific business activities. Factors such as how often you handle customer vehicles and whether you undertake vehicle repairs play a significant role in determining your insurance needs.
By establishing a close working relationship with your insurance provider and clearly defining your business's requirements, you can secure a motor trade insurance policy that provides comprehensive protection. This ensures that you only pay for the cover you require, avoiding unnecessary expenses.
What types of businesses need motor trade insurance?
Motor trade insurance is crucial for various businesses within the automotive sector, offering tailored protection against specific vehicle-related risks. Whether involved in buying, selling, repairing, or any other vehicle interactions, a comprehensive policy is likely essential.
Key business needing motor trade insurance
Car dealers: Protect inventory and cover liabilities, especially during test drives.
Valeting and detailing services: Ensure cover for potential damages to customers' vehicles.
Breakdown and recovery firms: Mitigate risks associated with roadside assistance.
Scrap dealers: Address environmental and safety hazards related to vehicle scrapping.
Car restoration businesses: Safeguard operations, particularly when restoring classic or damaged vehicles.
Car jockey services: Found at airports or large venues, these services require protection against damages during vehicle handling.
Garages (Repairs, MOTs, Services): Secure comprehensive cover for liabilities and potential damages.
Bodyshop repair garages: Specialising in vehicle bodywork, these garages need specific cover for potential damages.
This list is not exhaustive, and many other businesses in the automotive industry could also benefit from motor trade insurance. The flexibility of most policies allows for cover of all employees and the entire fleet of vehicles, ensuring a bespoke solution for different business models.
To ensure adequate protection, assess the specific risks associated with your business type and engage with an experienced insurance provider. They can guide you through the process, helping you understand the cover options available and tailoring a policy to meet your unique needs. Remember, motor trade insurance is not just about legal compliance; it's a vital tool for risk management, providing peace of mind and robust protection for your business.
What level of cover do I need?
Choosing the right level of motor trade insurance is vital to ensure your business is fully protected. There are three primary types of cover available, each offering different levels of protection to suit the varied needs of businesses within the motor trade industry.
Level of Cover
What It Covers
What It Doesn't Cover
Third-Party Cover
Damages to third parties (other drivers, pedestrians, property) using a customer's or company car.
Damage to the vehicle you're driving.
Personal injuries.
Third-Party, Fire, and Theft Cover
Everything covered by Third-Party.
Repair and replacement costs if the car is stolen or damaged by fire.
Damages to the car you're driving in accidents where you're at fault.
Comprehensive Cover
Everything covered by Third-Party, Fire, and Theft.
Damage to the car you're driving, regardless of ownership.
Specific exclusions vary by policy, so it's crucial to read the terms carefully.
To determine the most suitable level of cover for your motor trade business, assess:
The nature of your business.
The risks involved.
The value of the vehicles you handle.
Businesses dealing with high-value cars or extensive repair work may require the comprehensive cover. On the other hand, smaller operations with less risk exposure might find third-party cover sufficient.
Consulting with a motor trade insurance specialist is beneficial. They can provide tailored advice, helping you strike the right balance between protection and cost-effectiveness.
What does traders' insurance cover?
Motor trade insurance encompasses a range of cover options tailored to protect various aspects of automotive businesses. From covering accidental damage during vehicle repairs to ensuring legal compliance with employers' liability, this insurance is comprehensive.
The table below offers a concise summary of the key cover available, aiding you in pinpointing the most relevant options for your business and ensuring a secure and confident operational environment.
Key motor trade cover options
| Type of Cover | Ideal For | Legal Requirement | What It Covers |
| --- | --- | --- | --- |
| Accidental Damage | Repair garages, body shops | No | Accidental damage to a customer's vehicle in your care, e.g., during repairs or servicing |
| Road Risk Insurance | All motor trade businesses | Yes | Vehicles under your care, including your own and those awaiting repair or sale |
| Employers' Liability | All businesses with employees | Yes | Legal costs and compensation for employee injuries on the job |
| Product Liability | Businesses dealing with parts and services | No | Legal action due to faulty parts or services |
| Public Liability | All motor trade businesses | No | Legal costs and compensation for injuries on your premises |
| Combined Road Risk and Liability Cover | Businesses seeking comprehensive cover | No | Both road risk and various liability cover |
| Additional Cover | Varies | No | Includes damage to vehicles/equipment, road risk policy, staff driving vehicles, and public claims |
The table above provides a quick and clear summary of motor trade insurance cover options, helping you identify the best choices for your business. Selecting the right policy is crucial, ensuring protection for your operations, employees, and customers, and fostering a secure business environment.
What doesn't motor trade insurance cover?
Motor traders insurance is designed to protect vehicles and operations related to your business in the automotive industry. However, it's essential to understand that there are specific exclusions and limitations to this cover:
Personal use of business vehicles: Many motor trade insurance policies only cover vehicles used for work purposes. If you're using a business car for personal reasons, such as running errands or commuting, you may not be insured unless you've specifically added 'domestic use' to your policy.
Voiding your policy: Using a work vehicle for personal use without the appropriate additional cover can result in voiding your motor trade insurance. This means that your policy may become invalid, and any claims related to business operations could be denied.
Other common exclusions: Depending on the specific policy and insurer, there may be other exclusions to be aware of, such as:
Unqualified drivers: Cover may not apply if an unlicensed or improperly licensed driver operates a vehicle.
Illegal activities: Any damages or losses resulting from illegal activities may not be covered.
Specific types of vehicles: Some policies may exclude certain types or categories of vehicles.
It's crucial to carefully review your motor trade insurance policy and consult with your insurance provider to gain a clear understanding of what is and isn't covered. Ensuring that your policy is tailored to match your business's unique needs is key in this process. Being aware of any limitations is essential to help you avoid unexpected gaps in cover and ensure that you're adequately protected.
Understanding the exclusions in your policy allows you to take appropriate steps to safeguard your business. You might find that you need to modify your policy or adjust your business practices. Either way, the goal is to maintain comprehensive protection for all aspects of your operations.
Can anyone get motor trade insurance?
Motor trade insurance is widely accessible for professionals in the automotive sector, though eligibility and pricing are influenced by various factors. Below is a structured breakdown to help you navigate these considerations:
Age requirements and impact on cost
Over 25: Generally eligible for traders' insurance without complications.
23 and Older: Possible acceptance by some insurers, depending on the business type.
Under 23: More challenging to obtain cover, though specialised providers might assist.
Younger applicants: May face higher premiums due to perceived risk.
Driving record considerations
Criminal convictions: Could affect eligibility, varying by offense nature.
Motoring convictions: Driving offenses may impact insurance accessibility.
Driving bans: Previous bans pose challenges in securing motor trade insurance.
Business type and activities
Specific cover: The nature of your motor trade activities (e.g., sales, repairs, valeting) influences insurance terms and availability.
Consulting with experts
Specialised assistance: Engaging with a specialised insurance provider ensures tailored advice and cover options.
Motor trade insurance is predominantly available for automotive industry professionals. However, it's crucial to assess your specific circumstances, including age, driving history, and business activities, to secure the right cover.
Proactive consultation with experienced insurance providers guarantees comprehensive protection tailored to your unique needs, ensuring your business operates with confidence and security.
Can I get part-time motor trade insurance?
Yes, part-time motor trade insurance is readily available for individuals who engage in buying, selling, repairing, or valeting vehicles on a part-time basis. This specific insurance is designed to cater to the unique requirements of part-time motor traders, ensuring adequate cover without the expense of a full-time policy.
Road risk only insurance – This represents the basic level of insurance mandated by law for part-time motor traders. It provides cover for driving vehicles not owned by the trader but are in their care, offering essential protection.
Flexible policies – Policies for part-time motor trade insurance can be tailored to match the particular needs of the trader, considering factors such as the number of vehicles dealt with and the time spent in the trade. This approach ensures cost-effective cover.
Eligibility requirements – To be eligible for part-time motor trade insurance, individuals must demonstrate evidence of their work in the motor trade, through documents like sales receipts or invoices. Additionally, there is typically a minimum requirement regarding the number of vehicles that must be bought, sold, serviced, or repaired per year, usually ranging from 7-10, though some policies may offer cover for as few as 5 vehicles per year.
This specialised insurance option offers a practical and economical solution for those involved in the motor trade on a less frequent basis, ensuring legal cover and peace of mind.
What is combined motor trade insurance?
Combined motor trade insurance is a comprehensive package specifically designed for businesses within the motor trade industry. This insurance policy consolidates various types of cover into one, providing a streamlined and efficient solution for motor traders.
Cover types
Road risk insurance: This is a fundamental component of the policy, covering vehicles that are under your care. This includes both vehicles that you own and those that are awaiting repair or sale, ensuring that you have the necessary legal protection in place for all vehicle handling activities.
Business insurance: This aspect of the policy is designed to protect against various business-related risks. It covers potential damage to your premises or any equipment you use, safeguarding your business assets and helping to ensure continuity in the event of an unexpected incident.
Public liability cover: This cover protects your business against legal costs and potential compensation claims if someone were to injure themselves on your premises. It helps to mitigate the financial and legal risks associated with running a motor trade business.
Flexibility and customisation
Combined motor trade insurance is highly flexible and can be tailored to meet the specific needs of your business. This ensures that you have a policy in place that provides comprehensive protection, tailored to the unique requirements of your trade.
Cost considerations
Opting for a combined motor trade insurance policy can also offer potential cost savings. By consolidating various types of cover into one policy, you may find that it is more economical than taking out separate policies for each type of cover. Additionally, managing one combined policy can help to reduce administrative challenges, saving both time and effort.
Whether you are a car dealer, operate a repair garage, or are involved in other automotive activities, combined motor trade insurance offers a valuable solution. It simplifies the process of managing your insurance needs, potentially saves on costs, and ensures that you have comprehensive protection in place to keep your business secure.
What else can motor trade insurance cover?
Trade car insurance offers the flexibility to tailor a policy to suit your specific business needs in the automotive industry. Many providers allow you to add various features and specialised cover to your policy, enhancing protection for different aspects of your operations:
Additional types of trade insurance cover
| Cover Type | What It Covers | Why It's Useful |
| --- | --- | --- |
| Material Damage Cover | Assets like unsold cars in your showroom and equipment. | Safeguards your investment in inventory and tools, ensuring business continuity. |
| Business Premises Cover | The physical location of your business, be it a building or forecourt. | Provides financial protection against damages or losses to your workspace. |
| Demonstration Cover | Vehicles taken out for test drives, typically offering third-party cover. | Ensures you comply with legal requirements while protecting vehicles during customer test drives. |
| Specialist Vehicle Cover | Unique vehicles such as vintage cars, heavy goods vehicles, or high-end sports cars. | Offers tailored protection for your valuable and non-standard vehicles. |
| European Cover | Operating vehicles across European countries. | Supports international business ventures and ensures compliance with regional laws. |
| Goods in Transit Cover | Items transported as part of your business operations. | Protects your cargo during transit, safeguarding your assets. |
| Parts Only Policy | A specific policy for businesses dealing with vehicle parts, without the need to drive customers' cars. | Provides a cost-effective insurance solution tailored to parts-related operations. |
By integrating these additional cover options into your motor trade insurance policy, you can create a safety net that is as unique as your business. Engaging with an experienced insurance provider will enable you to tailor your policy to perfection, ensuring that every potential risk is covered.
Remember, the goal is to strike a balance between thorough protection and cost-effectiveness, allowing your business to thrive with confidence and security.
How much does motor trade insurance cost?
The average cost of motor trade insurance in the UK has experienced a notable increase, now averaging around £776. This represents a substantial £222 rise, equating to a 40% increase over the past year.
However, it's important to note that the cost can vary significantly based on a variety of factors. These include the type of cover you choose, the specific nature of your motor trade business, and the location of your operations. Other influential factors are your age and experience in the motor trade, your claims history, and the number and type of vehicles you deal with.
To find a policy that suits both your budget and your business needs, it's recommended to seek advice and quotes from a specialist in motor trade insurance. Alternatively, you could use an online comparison tool to help navigate the various options available to you.
How can I keep my insurance costs down?
To effectively reduce your motor trade insurance costs, adopting a strategic approach is key.
Below is a table that outlines various practical strategies, detailing the actions you can take and the benefits they offer, to help you achieve more affordable insurance premiums.
| Strategy | Action | Benefit |
| --- | --- | --- |
| Maintain Healthy Driving Records | Ensure all employees driving vehicles have a clean and healthy driving record. | Insurers often reward responsible driving with lower premiums. |
| Leverage Driving Experience | Highlight the driving experience of you and your staff. | More experience often translates to lower risk in the eyes of insurers. |
| Invest in Security | Implement extra security measures for your business, such as alarms or surveillance. | Enhanced security can reduce the risk of theft or vandalism, potentially lowering premiums. |
| Tailor Vehicle Cover | Reduce the number of vehicles covered or ensure the policy only covers the types and sizes of vehicles you need. | Customising cover to match your actual needs can eliminate unnecessary costs. |
| Consult with Your Insurer | Discuss with your insurer how you might modify your cover to reduce overall costs. | An insurer can provide insights into specific adjustments that align with your risk profile. |
| Do Your Research | Compare quotes and explore different options. | Shopping around can help you find the most competitive rates for the coverage you need. |
| Consider Vehicle Types | Be mindful of the types and sizes of vehicles you and your staff will be driving. | Aligning cover with actual vehicle usage can prevent overpaying. |
By implementing these strategies, you're positioning your business to potentially enjoy lower insurance premiums, ensuring you have the necessary protection without straining your budget.
"If starting out as a mobile mechanic is a fresh endeavour, I'd strongly advise individuals to ensure they've got the right insurance. Mechanics face special risks that they need safeguarding from, and if the mechanic plans on driving their customers' vehicles, a kind of motor trade insurance called 'road risk insurance' isn't just a smart business move, it's a legal requirement."
Chris Richards, Managing Director at Utility Saving Expert
Compare cheap motor traders insurance quotes
Can an insurance broker help reduce the cost of motor trade insurance?
Yes, engaging a insurance broker, particularly one with a specialisation in the motor trade sector, can be instrumental in securing more affordable insurance quotes.
Here's a breakdown of how they can assist and considerations to keep in mind:
Expert guidance
Role: Brokers possess in-depth knowledge of motor trade insurance and can guide you through the available options.
Benefit: Their expertise ensures you receive a policy tailored to your needs, potentially eliminating unnecessary costs.
Access to specialised insurers
Role: Brokers often have established relationships with insurers specialising in motor trade policies.
Benefit: This can result in access to competitive and specialised quotes that might not be easily found elsewhere.
Potential limitations
Consideration: Some brokers may have a limited network of insurers.
Impact: This could restrict your options, possibly leading to missed opportunities for better quotes from other providers.
Complementary strategies
Action: Alongside a broker's assistance, independently compare quotes from various insurance providers.
Benefit: This ensures a comprehensive view of the market, increasing your chances of finding more favourable rates.
Transparency and trust
Action: Opt for a broker who is transparent about their insurer relationships and commission structures.
Benefit: This fosters trust and ensures recommendations are made with your best interests in mind.
While a motor trade insurance broker can significantly aid in your search for cost-effective cover, it's crucial to complement their services with your own market research. This balanced approach ensures you secure a motor trade insurance policy that is both economical and perfectly suited to your business's unique requirements.
How to find cheap motor trade insurance quotes?
Insurance is crucial for your business's security, but it doesn't mean you should overspend. It's also vital not to compromise on the cover you need, as a cheap policy might fall short.
Here's what to consider when looking for affordable motor trade insurance:
Nature of your business: If you work part-time from home selling a few cars, you might only need third-party road risk cover. If you own a business premises with several cars, a combined policy might be more suitable.
Number of cars to cover: Policies covering unlimited cars will be more expensive than those with a limit.
Type of vehicles: Choose a policy that reflects the cars you work with. Cover for 'any vehicle,' including lorries and specialist cars, will cost more than standard vehicle policies.
Number of drivers to insure: Policies insuring 'any driver' will cost more than those covering named drivers. To lower costs, insure employees over 25 with clean driving records.
Improving security: Implementing a secure garage, CCTV, or gated forecourt can lower your premiums.
Paying for cover upfront: Paying in full can save on admin fees and interest, compared to monthly instalments.
Transferring your no claims bonus: Some insurers allow you to transfer your personal no-claims bonus to your motor trade policy, cutting costs.
Increasing your voluntary excess: Agreeing to a higher excess can lower premiums but ensure it's an amount you can afford.
Use comparison websites: Utilise unbiased insurance comparison website like Utility Saving Expert to find dozens of deals that meet your business needs without breaking the bank.
Remember, while finding a cost-effective policy is essential, it's equally important to ensure that the cover meets your specific business needs. Balancing cost and cover will help you find the right motor trade insurance for your situation.
Frequently Asked Questions (FAQs)
When do I need to advise my insurer of changes to my business?
If you make any significant changes to your motor trade business, it's essential to notify your insurer. This includes adding or removing drivers, changing your trading address, moving into business premises, changing the trades you operate in, taking on new employees, increasing the number of vehicles you trade, or any other changes that might require you to modify your insurance cover.
How can I add or remove vehicles from the Motor Insurance Database (MID)?
The MID is a central record of all insured vehicles in the UK. If you need to add or remove a vehicle from the MID, you should contact your insurer with the necessary details. This ensures that your vehicles are correctly registered and comply with Continuous Insurance Enforcement (CIE) regulations.
What options are available for motor traders working from home?
If you are a motor trader working from home or on a part-time basis, you may qualify for a Road Risks Policy. This type of policy is tailored to the needs of home-based traders and can be obtained by contacting specialised insurers. It's essential to provide accurate information about your business to get the right coverage.
Can I upgrade to a traders combined policy?
If you have a Road Risks policy and want to upgrade to a Traders Combined Policy (suitable for motor traders with premises), you can contact your insurer to discuss the options. A Traders Combined Policy offers more comprehensive coverage, including premises and liability protection, and may be more suitable for growing businesses.
What is the process for making a claim on my motor trade insurance policy?
The process for making a claim on your insurance policy will vary depending on your insurer. It's advisable to refer to the claims section of your policy or contact your insurer directly for guidance. Prompt reporting and providing all necessary documentation will help ensure a smooth claims process.