Millions of motorists across the UK will likely see a price increase on their car insurance premiums when they return to work post-lockdown.
A leading insurance comparison website found that around 61% of drivers expect to travel to work by car once lockdown restrictions are eased further. In comparison, this figure was only 34% before the coronavirus pandemic.
What this means for the general public is that there could be an estimated ten million additional cars on the road – this would potentially result in increased insurance costs for drivers. This makes now a perfect time to compare car insurance cover.
Those that are going to start driving to their place of work must ensure that their existing policy covers them for commuting, this is in addition to social, domestic and pleasure travel.
A large number of motorists may need to update their existing policy to a 'social, domestic, pleasure and commuting' policy (or SDP+C), this will likely increase the price. As a quick example, a male aged 35 driving a Ford in the capital could see his policy rise by around 6% to £350 from £330.
Yorkshire, the West Midlands, and Wales are the areas where people are most likely to switch to driving to work after lockdown eases further. 32% of drivers in London say they will drive to their place of work; this is in comparison to just 20% before the lockdown. An estimated 45% still plan to use public transport.
Percentage of people driving to work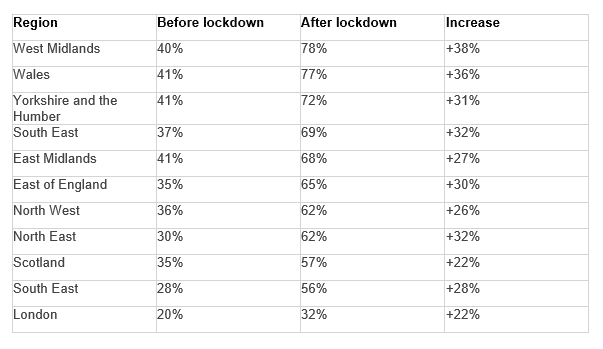 It won't come as a surprise that premiums fell by 7% between March and May 2020 as there were far fewer vehicles on the road. The average price of car insurance decreased to £702, compared with a figure of £755 in the previous quarter.
Only time will tell if this trend continues in the near future as more businesses open up and employees return to work. Logically, extra drivers equate to a greater risk, which is why insurance costs could rise in the months ahead.
Hopefully, providers take on board the advice given by the FCA (Financial Conduct Authority), whereby insurers were asked to consider whether customers are getting value for money for their active policies during the COVID-19 pandemic. Furthermore, firms were asked to wave additional charges and cancellation fees. Many customers were also eligible for payment holidays and premium refunds.
No doubt, many households up and down the country will be concerned about the cost of car insurance due to economic uncertainty. This being said, customers should be encouraged to find cheaper cover where possible, rather than paying an excessive amount on their renewal. The difference between the cheapest premium and the average premium is currently £108, a substantial saving.