Should I be an Uber driver or a traditional taxi driver?
Deciding between becoming an Uber driver or a taxi driver is something many aspiring drivers have to consider before they can start to transport passengers from point A to point B. It should be noted that there are in fact recognisable differences between working as an Uber driver or a more traditional taxicab professional.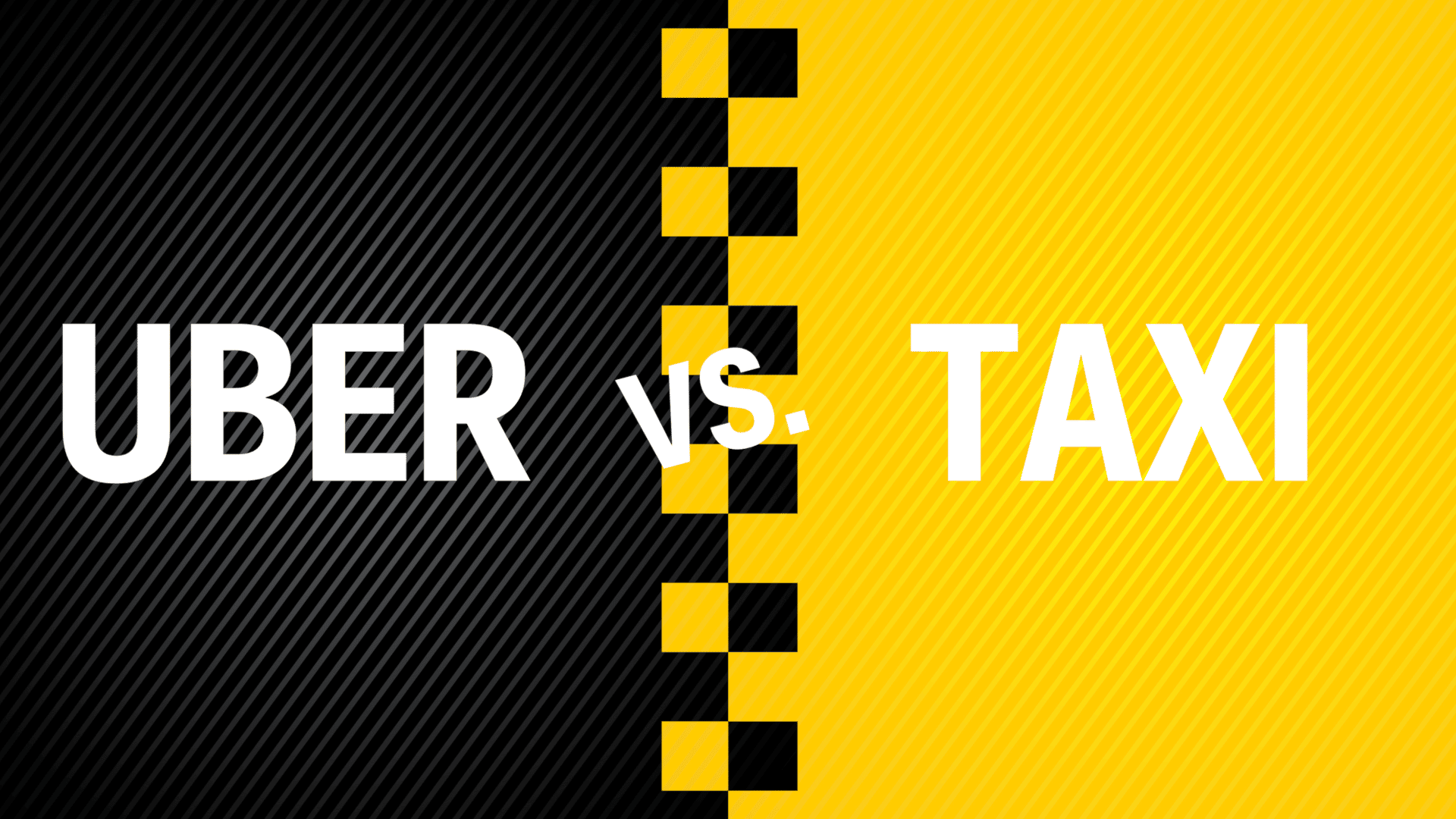 For this sole reason, we have created this article to help you better understand the marked differences between the two. We hope to assist you in making a well-informed decision about your future driving career. We will cover the differences between Uber and taxi driving and the advantages and disadvantages of each option. Don't forget you will also require the necessary cover when out on the road so it's useful to compare private hire insurance or more specialised Uber insurance cover.
What is the difference between a taxi driver and an Uber driver?
Taxis have been around since the early 19th century and long before this if you count horses. In contrast, Uber is relatively new and has only been around since 2010. The major difference between Uber vehicles and taxis is that taxis must be booked in advance or hailed from a taxi rank.
Taxis can either be private hire vehicles or Hackney carriages in the UK. Those who have a Hackney carriage permit are only able to pick up passengers from the roadside and are unable to pre-arrange bookings. Private hire vehicles however, are only able to pre-book passenger journeys. Like Hackney carriage drivers, Uber drivers must hold a private hire license from Transport for London (TfL) to operate within the capital city.
For more information on PCO licensing and car rental, check out our comprehensive guide on the subject.
Since entering the sector, Uber has clearly streamlined the process of hailing a cab. Riders no longer have to walk down a busy street to search for an available taxi. They can now use the Uber app on their smartphone and the taxi will come directly to them, making it very convenient for customers. Additionally, passengers have also benefited by saving money through Uber, as the ride hailing company has been able to undercut Hackney carriage drivers per-mile rate in UK cities such as London.
However, this doesn't necessarily mean that Uber drivers are making more money though. Black cab drivers are more profitable with a smaller number of bookings but those that have become an Uber driver can heavily rely on the larger number of available passengers
The advantages of being a taxi driver
Passengers of all ages
Uber passengers are normally aged 30 or below, as they are far more inclined to rely on the Uber concept. If you would prefer to meet people of various ages, being a taxi driver offers this opportunity. One day you could be picking up a 50-year-old company executive and taking them to their last business meeting that afternoon, the next day you could be taking an elderly lady to visit her grandchildren. There is far greater variety for taxi drivers. You may even have a regular term time contract with your local authority to transport children to and from school.
Knowledge and driving skills
Uber drivers tend to heavily rely on the GPS built into their smartphone. This means that they will usually have less knowledge of a particular area and won't be aware of all the shortcuts to avoid traffic congestion. Taxi drivers are able to rely a lot more on their local knowledge of these routes and only use the GPS for emergencies.
A more personalised experience with taxi drivers
Again, considering the personalised angle that taxi drivers are able to offer, Uber drivers are not able to quite match this in most towns and cities and are far more impersonal. As a result of this, many passengers consider Uber drivers to just be a name on their smartphone screen instead of someone they already know and have a human connection with that has been built up over a number of years. Uber drivers are primarily focused on the number of journeys they can complete rather than the quality of service on offer. Taxi drivers on the other hand are able to offer a far more personable experience to their customers.
The disadvantages of being a taxi driver
You are likely to be beaten on price
We have already mentioned above that it is highly likely that Uber drivers are able to undercut their far more expensive taxi driving counterparts. This is because the Uber app does not factor in day and night rates set by a local authority.
Waiting at a taxi rank can be time consuming
Taxi drivers that are situated at a taxi rank and await a passenger to hail them from this location could be waiting for an extended period of time. There will be some mornings and evenings that will require you to be extra patient and can get tiring. Uber drivers on the other hand can reach their next customer immediately after they have completed their current journey, meaning less down time and further gained productivity.
Advantages of being an Uber driver
Pick up nearby passengers
Uber offers drivers and customers a location-based platform through its app. Nearby passengers that request a ride will alert the driver about his/her next available job. This reduces waiting times for passengers, in addition to cutting vehicle emissions. This results in Uber drivers having a working day with greater convenience and flexibility.
Easy to use payment system
As an Uber driver you won't have to think about handling cash or loose change. Customers pay for their journeys through the company's app. However, it is worth noting that Uber does take a significant cut of your earnings.
Flexible working hours
Uber offers drivers far more flexibility and a less rigid schedule. This is because drivers are able to choose their working hours which can be balanced alongside a main job and/or a family commitment.
Surge pricing during in demand hours
Drivers are able to increase their rates for a period of high demand. This is referred to as 'surge pricing'. This could occur for a variety of reasons. It may be rush hour or a sporting event or music concert has recently concluded.
Disadvantages of being an Uber driver
You may have to work unsociable hours
Although some taxi drivers will have the opportunity to take off bank holidays, Uber drivers may decide against this, especially if they use the platform to supplement their main income. This is because late nights, weekends and bank holidays often offer the most profitable hours for those in this sector. However, this could also be said for traditional taxi drivers too. Ultimately, Uber drivers do not have to commit to these unsociable hours, but the opportunity is there should they want it, meaning this could be seen as an advantage too.
At risk of unfair Uber ratings from riders
Passengers will rate the Uber driver through the app upon completion of a journey. In some instances, you may find a passenger who gives you an unfair poor rating. This will mean your overall rating decreases, meaning future passengers may overlook you. Even worse, Uber can deactivate the account of a driver who has a poor rating. Here's how to improve your Uber driver rating.
Can I work for Uber on the side?
Yes. As long as you have the required license issued by your local authority, you are able to work as an Uber driver in your spare time. Uber's application-based ride hailing service gives drivers greater work flexibility.
Which type of taxi driver should I be?
The answer to this question will depend on your personal circumstances. Uber drivers will have access to regular work throughout the day, and those operating in larger cities such as Manchester and London will have regular journeys filtering through to them via the Uber app. Each day is different for taxi drivers who may have to wait at a rank.
Uber is likely more suited for drivers who want an additional income, especially when they can take advantage of surge pricing. They will also be able to maximise their income if they are able to become more flexible and work unsociable hours. On the other hand, being an employed taxi driver and transporting regular passengers can also be a rewarding experience. One option is not clearly the outright winner, the above advantages and disadvantages should help you make an informed decision.