Food Delivery Insurance Guide
What Insurance Do You Need To Deliver Food?
The exponential rise of hot food delivery lies in its convenience, both for those who order and those who deliver it. For those on the receiving side, apps such as Deliveroo, Just Eat, and Uber Eats have made ordering from their favourite restaurant as simple as an Alexa command.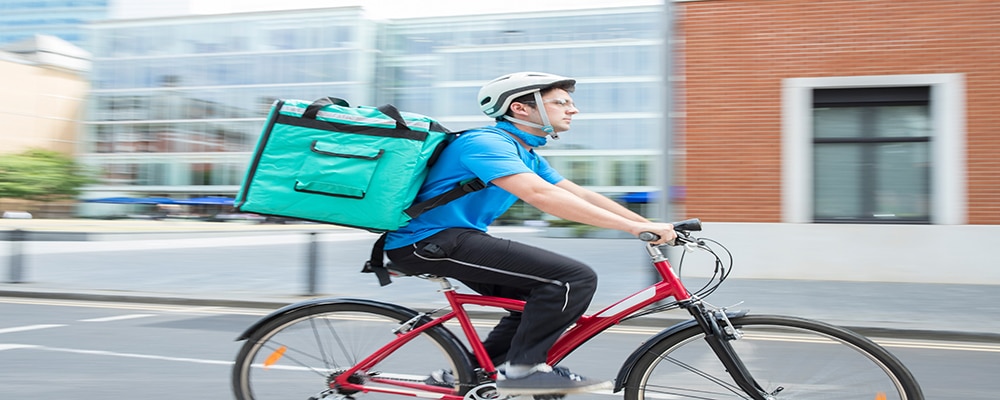 This is partially the reason why hot food delivery has a projected market value of £12.6 billion by 2024. For drivers, food delivery is a convenient way to work flexibly, earn extra income, and even exercise. One inconvenient thing about food delivery is keeping on top of all the different food delivery insurance types. If you're unsure what kind of cover you need, this article will explain all recommended insurance types.
The Different Types of Food Delivery Insurance
Although some of the following examples of food delivery insurance may not apply to all, it's worth considering each in relation to your situation.
Hire and Reward Insurance
Hire and reward insurance is essential to anyone in the transportation industry who carries goods for another person in exchange for a payment. For delivery drivers, this covers legal expenses, personal injury compensation, and repair costs as a result of an accident. This insurance type is also used by couriers, taxi drivers, and chauffeurs.
Like normal car insurance, your car type, age, and other factors determine the price of hire and reward insurance.
Hire and reward insurance is sometimes referred to as courier insurance, class C(3) business use car insurance, and food delivery insurance.
Public Liability Insurance
If you are a self-employed food delivery driver, you will also need public liability insurance. This covers the legal expenses made by third parties for claims of injury or damage made concerning your delivery work. For example, in the unlikely event of you damaging someone's property while delivering food, public liability insurance can cover you.
If you are a paid employee, you should already have public liability insurance coverage. However, if you work for a food delivery app like JustEat, you may be required to take out public liability insurance yourself. Deliveroo is an exception, as they provide free public liability insurance for cyclists, as well as other insurance types.
Product Liability Insurance
If you are delivering products for the likes of a food truck, ensure that they have product liability insurance in place. This is not a legal requirement, so some businesses attempt to trade without it. Product liability insurance covers you in the instance of the product being faulty or poisonous, resulting in harm to the customer.
Personal Injury Insurance
If you are self-employed and working for an online food order service like Just Eat, you will need to set up your own personal injury insurance. This will cover you financially if you are unable to work due to injury.
The insurance company will pay you a percentage of your average income. The length of time in which you receive this cover depends on the type of insurance policy you take out, whether it be short-term or long-term. This is sometimes referred to as self-employed income protection insurance.
Low mileage
If you choose a lower mileage allowance, it demonstrates that you will spend less time driving which, in turn, yields less opportunity for accidents to take place. Lower risk equals lower insurance price.
Compare fast food takeaway courier car insurance quotes
Pay As You Go Food Delivery Insurance
It's possible to get pay as you go or top-up delivery insurance if you are only working part-time for the likes of Just Eat. It allows you to pay for insurance whenever you need it, as opposed to paying a standard monthly sum for hire and reward insurance.
Before taking out pay as you go food delivery insurance, it's important to consult and seek approval from your social, domestic, & pleasure (SD&P) insurance provider. Top-up delivery insurance works as an extension of your regular SD&P insurance policy. If you do not notify your provider, your top-up insurance may be rendered invalid.
Can you use regular car insurance for delivering food?
You cannot use your regular SD&P car insurance to cover you as a fast-food delivery driver. Even if your SD&P is valid for 'business use', you need to take out separate hire and reward insurance or top-up delivery insurance.
If you attempt to use your standard insurance to cover yourself while delivering food, your SD&P could be considered invalid by your insurance provider.
How to choose the appropriate food delivery insurance for your business
If you use your own vehicle to deliver food for a restaurant, you will need to take out hire and reward insurance. You should choose additional food delivery insurance based on the company you work for. For example, if you are an official employee of a restaurant, you may be covered for public liability, product liability, and personal injury.
However, if you work for Uber Eats or Just Eat, you'll need to take out your own public liability insurance.
For restaurants that offer you insurance coverage as part of the job, you should always check the small print. Although Deliveroo claims to offer free public liability insurance, this only applies fully to cyclists. In the case of scooters and cars, the insurance coverage is only valid when the drivers are not driving their vehicles.
Why compare food delivery insurance with Utility Saving Expert
You can get quotes, compare food delivery insurance policies, and speak directly to insurance policy brokers by using the Utility Saving Expert quick quote tool. Use it to find an ideal fast food delivery insurance deal that covers hire and reward, public liability, product liability, and personal injury today.
Final Thoughts
If you are self-employed and deliver food, you need to have adequate insurance to safeguard you against the hazards of the road. Even if you are employed by a restaurant to deliver food, you must check how much food delivery driver insurance they provide and take out a premium to cover anything that may be missing.
Use Utility Saving Expert to find the best-priced and most beneficial specialist food delivery insurance.
Frequently Asked Questions (FAQs)
Is food delivery insurance a legal requirement in the UK?
Hire and reward insurance is a legal requirement for all food delivery drivers. It is not enough to use your SD&P to cover you when delivering food in exchange for cash. Although your regular car insurance may cover business use, it is highly unlikely to cover fast food delivery.
Why does food delivery insurance cost more than a standard policy?
Delivery driver insurance tends to be higher than regular car insurance due to several reasons that make them more risk-prone. These include:
A delivery driver is likely to spend far more time on the road and in busy, city-centre districts than the average driver.
Fast food generally needs to be delivered quickly, which increases the likelihood of a delivery driver speeding to reach a destination.
The working conditions of a delivery driver are often unpredictable. The reason people order takeaway food is that the weather is too harsh to venture outside. This leaves the delivery driver to drive through wind, snow, and other difficult conditions that can increase the chances of an accident.
Delivery car insurance tends to be higher because delivery driving tends to be a second job for many people. This increases the chances of the individual experiencing job fatigue, which could affect their driving.
What is the average price of food delivery driver insurance in the UK?
Like most commercial vehicle insurance premiums, food delivery driver insurance typically costs over £700 annually. Depending on factors such as your car, age, and other factors, this price can exceed £1,300.